Ieper Christmas
Ypres Christmas
Visit Ypres Christmas Market and
pay your respect to the fallen of the
Great War 1914-18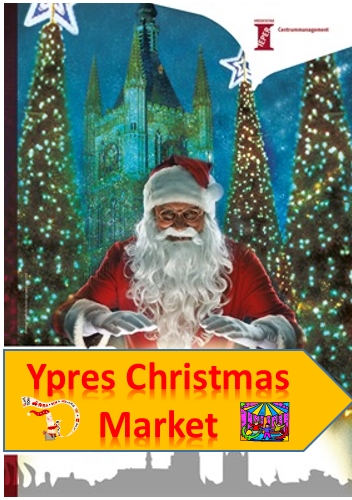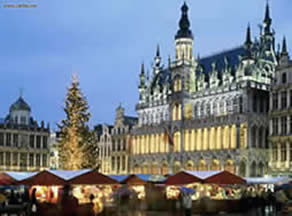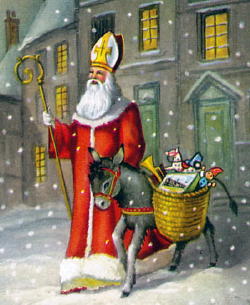 When the Ypres Christmas Market is happening there is usually a smaller Christmas market in Poperinge. Poperinge also has a weekly market which is held on Friday mornings.
Poperinge played a major role in the 14-18 War so like Ypres is full of World War I history - the modern day Poperinge is in the Hop Lands of Flanders and is just a 9 mile journey from Ypres which you can drive, take the train or bus to.
There are good places to stay and eat in Poperinge we recommend The Belfort and the Hotel de la Paix.
Poperinge is where the British command carried out, more than often the unjustifable, death at dawn shootings, it is possible to visit a death cell. Also in the town of Poperinge is Talbot House.
Ypres Christmas Market
Ice rink and Christmas Market
23rd November 2018 to 2nd January, 2019
Travel & Accommodation offer
Return cross Chanel ferry Dover to Calais
(Hull-Zeebrugge available with supplement)
for Car (supplement applies for Van)
2 Nights Stay in the City Centre Hotel
based on two sharing
From £145.00p. per person
Fairfield Motorsport
Telephone UK 01 656 725000
Overseas 00 44 1656 725000
e-mail : info@fairfieldmotorsport.com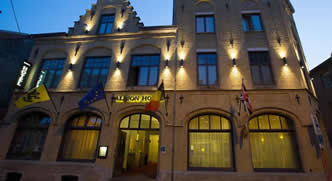 Christmas in Ieper / Christmas in Ypres
There is something very special about Ypres, this magnificent Flemish city with a main square - the Grote Markt - surrounded by its fine buildings and the Menin Gate. Ypres is not a large city by UK standards but just the size of a British town.
On the western side of main square is the Cloth Hall (Lakenhalle) flanked by the magnificent St. Martin's Cathedral in the background and to the eastern side is the regal Town Hall. These magnificent buildings make it special to see but its the history that effects us all us with the remembrance of the 14-18 War that tore through so many hearts, devastated this city which as risen from ashes. Ypres has become a centre of remembrance and respect to those who gave their lives for our today in the great war, there are regular visitors from all the corners of globe paying their respect to the fallen all year around.
Visiting the Ypres Christmas Market gives you the opportunity to pay your respects to the fallen at the last post ceremony at the Menin Gate which takes place every evening at 20.00hrs. and also to enjoy the vibrancy of today's Ypres this is a balance seldom found of history and modern coming together in harmony.
On Saturday mornings there is the Ypres weekly Market which is a blast to the past to the excellent markets we also once had. If for some reason the weekly market isn't on the square it is usually on the Promenade which is down near the railway station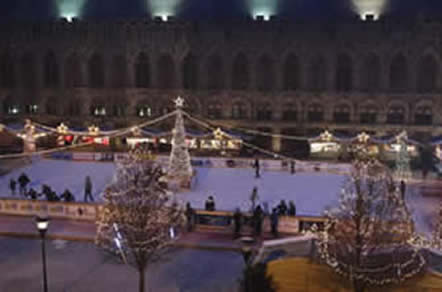 Ypres at Christmas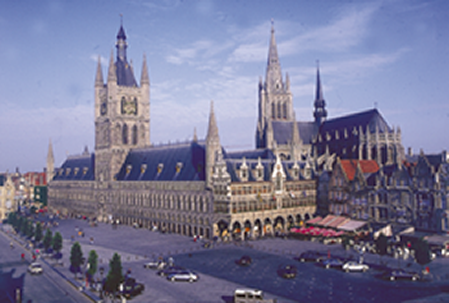 Summer Ieper
For more information on the Ypres Ieper Region of Flanders please visit our Flanders Battlefields site