Cefn Ydfa is known to have been occupied since 1450, it's first known occupant was John ap Hywel ap Ieuan ap Ryhs Fechan, it's most famous Ann Thomas 'The Maid of Cefn Ydfa'
Cefn Ydfa is situated in the historic Llynfi Valley between the villages of Coytrahen and Llangynwyd in the ancient lands of Tir Iarll and the parish of Llangynwyd Lower its looks out to the Churches of Llangynwyd, Bettws and Llangenior and Brynllwarch Farm the home of the first non-conformist ministry academy in Wales founded by Samuel Jones and the Maids Uncle.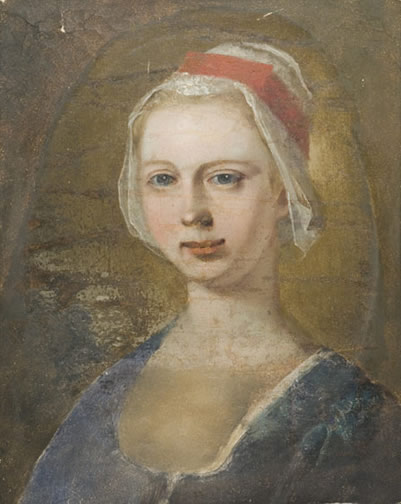 Ann Thomas
Ferch o Cefn Ydfa
The Maid was born in 1704 to William and Catherine (Price) Thomas, into a fascinating family. Her cousins Dr. Richard Price of Tynton Farm, Llangenior and the Morgan's of Tyla Coch Farm. Bettws.
Dr. Richard Price was a great man on which volumes of his achievements and history are written. He played a prominent role in the American Revolution, her cousin's the Morgan's were great mathematicians and developed he first X Ray tube. In more modern times te lineage travels into the Crawshay-Williams family of Coed-y-Mwstwr and Evelyn Waugh.
It was the wish of the Maid's Mother Catherine Thomas a widow and her guardian that Ann married the son of the neighbouring farm, Anthony Maddocks of Cwmyrisca, Anthony was a shrewd man and lawyer and well approved of the arrangement.
Ann did not love Anthony Maddock's but a young man by the name of Wil Hopkin, Wil was local thatcher and bard, he sometimes worked for Ann's mother, and Ann know him well, but he fell a long way short of being a suitable suitor for Ann let alone a future husband.
Ann and Will spent all the time they could together but Ann found no sympathy with her family or contemporaries, to love and wish to marry below her status this was untold in the Eighteenth century.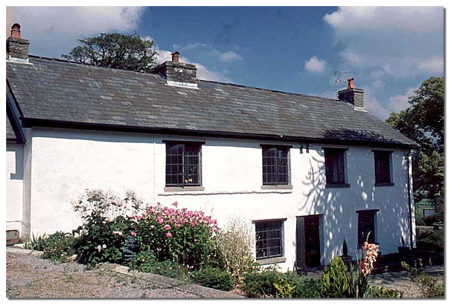 Cefn Ydfa Farmhouse
Without question Anthony Maddocks, was to be her husband, her mother locked her up to prevent her from betraying her and seeing the forbidden Wil, Ann wrote love letters to her darling Wil, that her maid would smuggle out and hide in a hallow of a sycamore tree, and Wil would collect them.
The Marriage to Anthony Maddocks took place on the 3rd May, 1725, Wil heartbroken travelled to Bristol for work, he could no longer bear to stay close to Ann and see his love so sad and ill, it is said that whilst in Bristol he had a dream that Anthony Maddocks had died and that Ann was free to marry him. He immediately began to journey home, but was to find that Maddocks had not died, only that his Ann was dieing, he went to her, the sad Mrs. Thomas welcomed him, Ann is said to have cried to him, and he held her in his arms, she relaxed and smiled with her love for him, and died in her beloved Wil's arms. The year was 1727 and she was 23 her marriage just 2 years old
Ann Thomas was born in 1704 and died in 1727
Wil Hopkin was baptised on the 24.11.1700 and buried 20.08.1741
Their lives were short but their spirts and love have long lived on
Wil wrote a song in the memory of their love 'Bugelior Gwenith Gwyn' which is sung by many to immortalize their love.
Visitors call from many parts of Wales and the World, to see the home of the Maid, many books have been written and many stories told.
Anthony Maddocks inherited Cefn Ydfa and went on to marry another heiress this time of Ty Mawr, Laleston thus increasing his wealth, he developed Cefn Ydfa and built the Mansion which today is in ruin. The farmhouse which Mrs, Thomas and Ann livd in stands very much as it did in their time.
Had they been wed in summertime the would not now be parted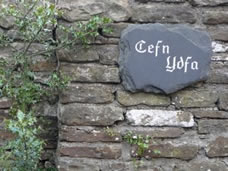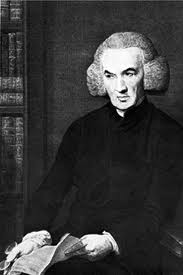 Portrait of Dr. Richard Price
by Benjamin West
In the portrait Dr. Richard Price is holding a letter from Benjamin Frankin - Dr. Price was a fist cousin to the Maid on Cefn, for more information on Dr. Price please click here for the Wikipedia link
Morgan Bros. Tyla Coch Farm, Bettws, visitors to the X Ray Dept., in the Princes of Wales Hospital, Bridgend will see the wall plaque commemorating their invention of the first X Ray Tube.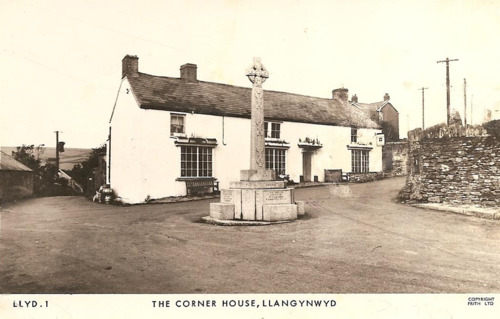 The Hopcyn Cross,
Architect Christopher Williams, Date Erected 1928
Monument Llangynwyd Village
Commemorates the life of Ann Thomas and Wil Hopckin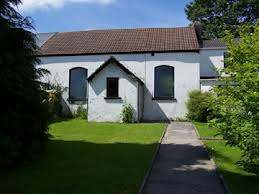 Bethesda Chapel, Llangynwyd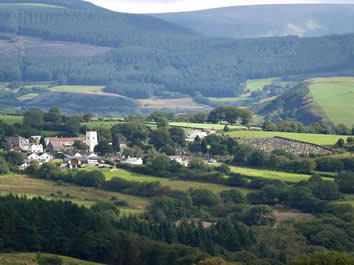 Llangynwyd Village & surrounding area
Bugelio'r Gwenith Gwyn
Idle Days in Summer Time
Welsh Words : Wil Hopckin
English Words: W. Maynard
Mid sydd fach gen ieu-angc ffol,

Yn byw of fy ffan-si

Myf'n bugellio'r gwenith gwyn

Ac arll yn ei fedi

Pam na ddew I ar fy ol

Ryw ddyd ar ol ei gilydd

Gwaith rwyn dy wel'd

y feinir fach, Yn lanach lanach beunydd

Glanach lanach wyt bod dydd

Neu fi sy'm ffydd yn ffdach

Er mwyn y gwr a wnaeth dy wedd

Gwna im drugaredd bellach

Cwnndy ben, gwel acco darw

Rho I mirth law wen dirion

Gwaith yn dy fynswes berth ei

thro

Mae allwedd clo fy nghalon

Idle days in Summer-time

In pleasant sunny weather

Amid the golden colour'd corn

Two lovers pass'd together

Many words they did not speak

to give their thoughts expression

Each knew the others heart was full

But neither made Confession

Winter came, and then, alas

Came cold and dreary weather

No more the lovers pass'd their days

Amid the field together

Cruel fate has served them, And both are broken hearted

Had they been wed in Summertime

They would not now be parted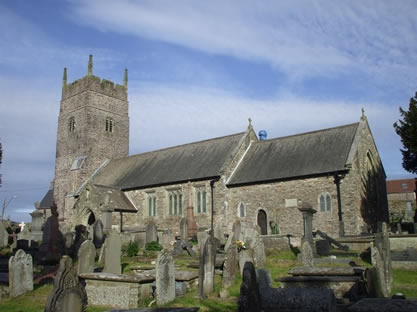 St. Cynwyd's Church
Llangynwyd
The parish of Llangynwyd practiced in the time of the maid and maintains tradition into the 21st Century of the Mari Lwyd which unfortunately is no longer largely practiced in Wales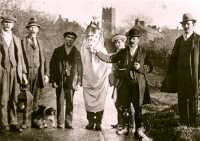 The Mari Lwyd
still a tradition in Llangynwyd as in
Ann Thomas days for more
information please click here